What is Binary MLM Plan?
The MLM Binary Plan is a most popular plan among MLM companies, network marketers, part-timers and members who want to earn through MLM business.
MLM (multi-level marketing) companies where new joiners introduced into Binary Tree structure i.e. one on left and another on right sub-tree. Generally, one side sub-tree is referred to as Power leg while other is Profit leg.
Power leg grows with new member placement, even introduced by previously enrolled or ancestors. New members in the power leg placed under a leaf available node of the binary tree, when a member works to grow his Profit leg, some compensation distributed calculated by a formula using certain value matched with Power leg that may be 1:1 or 2:1.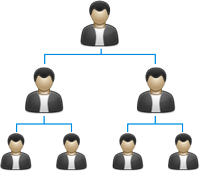 How can work Blezo's Binary MLM Plan?
1. Per Member Sponsor will get 500 rs.
2. Per 5 pairs completed Referral will get 250 rs.